Implant Dentures
Murfreesboro, TN.
Serving Murfreesboro, Smyrna, and the surrounding areas.
Cosmetic Dentistry | Sedation Dentistry | Dental Implants | Implant Dentures | Dental Credit
We Feature Implant Dentures, Bridges, Crowns, and Dental Implants.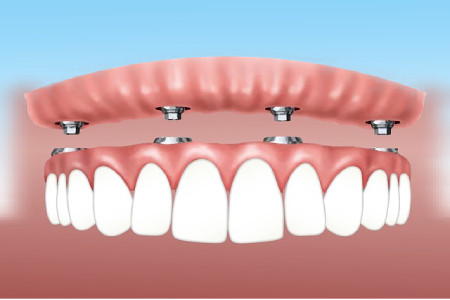 Custom Dental Implant Dentures
Customized Dentures
Restore Your Smile
Bluegrass Dental in Murfreesboro, TN, offers both traditional and implant-supported dentures to restore the form and function of your smile. Widespread tooth loss can make virtually every aspect of your daily life more difficult, so why not make an appointment to see if dentures are a good option for you.
Dr. Todd Martin can provide beautiful, natural-looking dentures that help you eat and speak with confidence. Whether you need a partial or full restoration, we have the right solution for your unique needs.
Explore Your Options
We offer a variety of types of dentures at Bluegrass Dental, allowing us to tailor treatment to your lifestyle. Conventional dentures are one of the most common and trusted solutions for extensive tooth loss. However, you may qualify for treatment with dental implants, which can provide superior support for a permanent denture.
Conventional Dentures
A traditional denture is a removable device which replaces a full arch of teeth in your upper or lower jaw. This restoration consists of a gum-colored acrylic base and artificial teeth. In the upper jaw, a conventional denture covers the roof of your mouth, as well as your gums. In the lower jaw, the restoration is shaped like a horseshoe to allow room for your tongue to rest comfortably.
Conventional dentures stay in place using a combination of natural suction and dental adhesive.
Partial Dentures
If you are missing some, but not all of your teeth, Dr. Martin may recommend a partial denture instead. Similar to a full denture, this device has an acrylic base and artificial teeth. However, it also has small metal hooks which wrap around nearby teeth to provide additional support.
Implant-Supported Restorations
Implant-supported dentures are the closest way to mimic your natural teeth and offer an unparalleled level of stability to eligible patients. Dental implants are small titanium posts which act as artificial tooth roots. Dr. Martin will assess your oral health and determine whether an implant-supported denture is right for you.
Implant-supported restorations connect to the implant posts rather than resting on your gums. Since they are fixed in place, this type of denture is more secure and will never move out of place while you are speaking and eating.
The Benefits of Restoring Your Smile with Dentures
Missing teeth can affect your appearance and oral health. Widespread tooth loss can cause your facial muscles to sag, so you look older than you are. In addition, missing teeth make it harder to eat healthy, nutrient-rich foods, which can affect your health.
Dentures offer a range of benefits, including:
• Improved oral health
• A wider range of food options
• A more beautiful smile
• Increased comfort
• A more youthful appearance
• Enhanced self-confidence
If you choose implant-supported dentures, you have the added advantages of increased stability and comfort. The posts also stimulate the jaw similarly to tooth roots, minimizing the bone loss that results when teeth fall out or are extracted. However, it is important to keep in mind that implant-supported dentures involve a longer treatment time and a higher initial cost.
Financing through CareCredit® is available, and our staff can fully discuss these considerations with you during an appointment at our office.
Find Out More about Your Candidacy
At Bluegrass Dental, we also offer denture servicing, including denture repair and conversion. Whether you need a conventional denture or want to experience the benefits of an implant-supported option, our team can help to restore your smile.
For more information, contact our office online or call (615) 896-4860 today.
Our Complete List of Services
Affiliations