Even those who brush and floss regularly may be dissatisfied with the appearance of their smile. Cosmetic imperfections such as chips, cracks, and discoloration can affect the beauty of your smile and leave you feeling self-conscious or embarrassed.
Dental veneers are custom-crafted restorations designed to conceal aesthetic flaws and bring balance to your smile. Drs. Todd Martin and Brian Riel offer this advanced treatment at Bluegrass Dental in Murfreesboro, TN.
Veneers are thin, durable porcelain shells that are designed specifically to fit the front surfaces of your teeth to give your smile a powerful and natural-looking upgrade.
They'll Notice Your Beautiful Smile
- Not Your Dental Work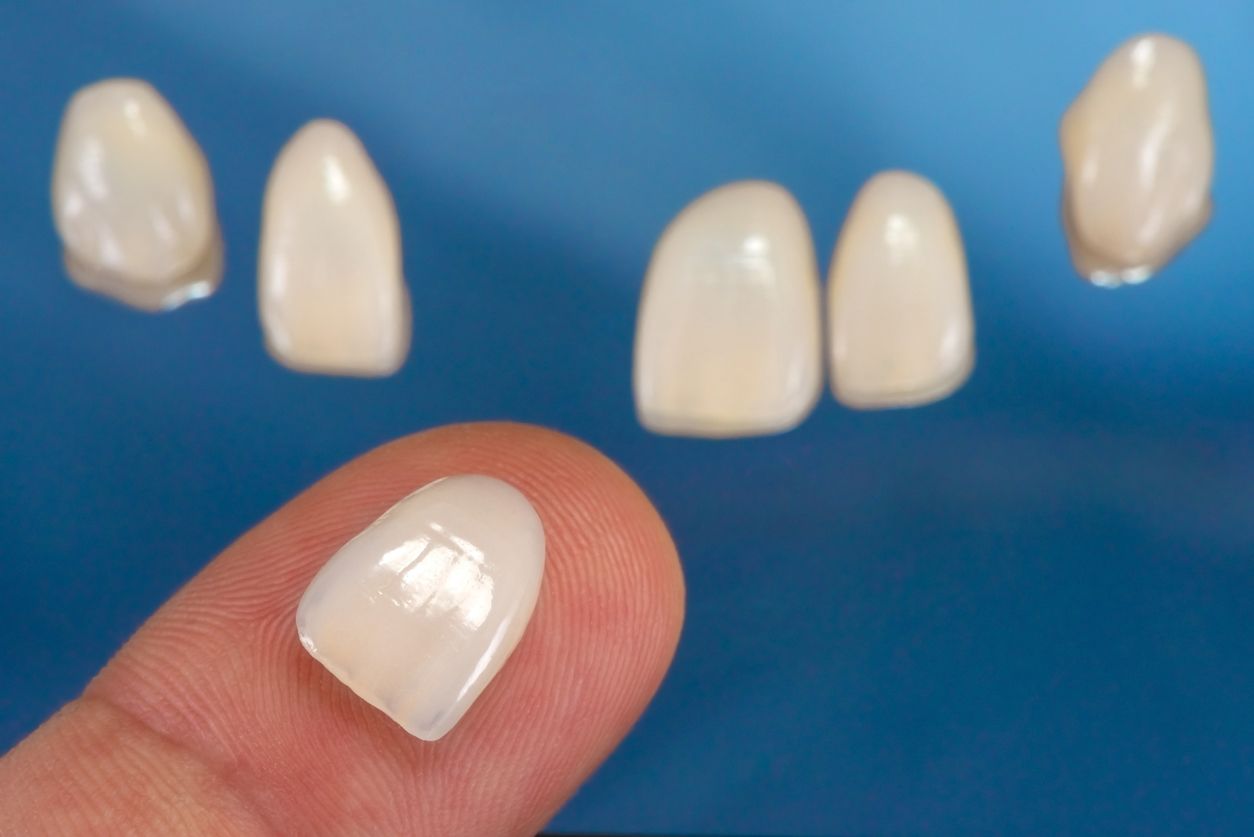 Porcelain Veneers Candidacy
Most patients who are concerned about cosmetic imperfections can be considered for dental veneers. These restorations can address:
Chips
Hairline fractures
Cracks
Gaps and spaces between the teeth
Discoloration and deep intrinsic staining that won't respond to whitening
Minor dental misalignment
To qualify for porcelain veneers – or any other cosmetic procedure – candidates should be in good oral health, free from extensive decay, periodontal disease, and other serious issues. If oral health problems are present, your Murfreesboro, TN, dentists will recommend restorative treatments. Once completed, cosmetic options can be explored.
Because the teeth must be slightly altered during veneer placement, patients should also have a sufficient amount of enamel. Anyone considering porcelain veneers should also be committed to proper oral hygiene and regular checkups to help make their veneers last as long as possible.
The Porcelain Veneers Treatment Process
Veneer placement is typically completed in two office visits. During the first appointment, your dentist removes a small amount of enamel from the front surfaces of the teeth you wish to treat. This helps prepare the teeth for your new restorations so they will bond properly and look natural. Next, impressions are taken and sent to a trusted dental lab. There, a skilled technician will handcraft your veneers based on your unique dental specifications. Since the fabrication process takes at least two to three weeks on average, temporary veneers will likely be placed in the meantime.
Once your veneers are ready, we will schedule you for a second appointment. During this visit, your dentist will assess the fit, color, and quality of your new restorations. If necessary, the veneers can be adjusted or reshaped so that they do not interfere with your bite. Once you are satisfied with the appearance of your veneers, they will be permanently bonded into place.
To qualify for porcelain veneers – or any other cosmetic procedure – candidates should be in good oral health, free from extensive decay, periodontal disease, and other serious issues.
How to Care for Your Porcelain Veneers
On average, dental veneers last about 10 years. However, they can last longer with proper care and maintenance – often upwards of 20 years.
To keep your porcelain veneers looking healthy and beautiful, it is important to practice proper oral hygiene. Patients should brush at least twice daily using a soft-bristled toothbrush and nonabrasive toothpaste. Avoid whitening pastes, as they do not change the color of porcelain restorations and can actually damage the surfaces over time. Our Murfreesboro, TN dental team also recommends flossing once daily and rinsing with a fluoride mouthwash.
Keep in mind that while porcelain restorations are not susceptible to decay, the underlying tooth structure is still vulnerable. Visiting your dentist regularly and practicing proper at-home hygiene can ensure that your veneers provide benefits for many years to come.